Connect_Next
Connecting School, Students, Parents
Trio Seamlessly

Edugre
3 Steps to a secured
Environment for children
-->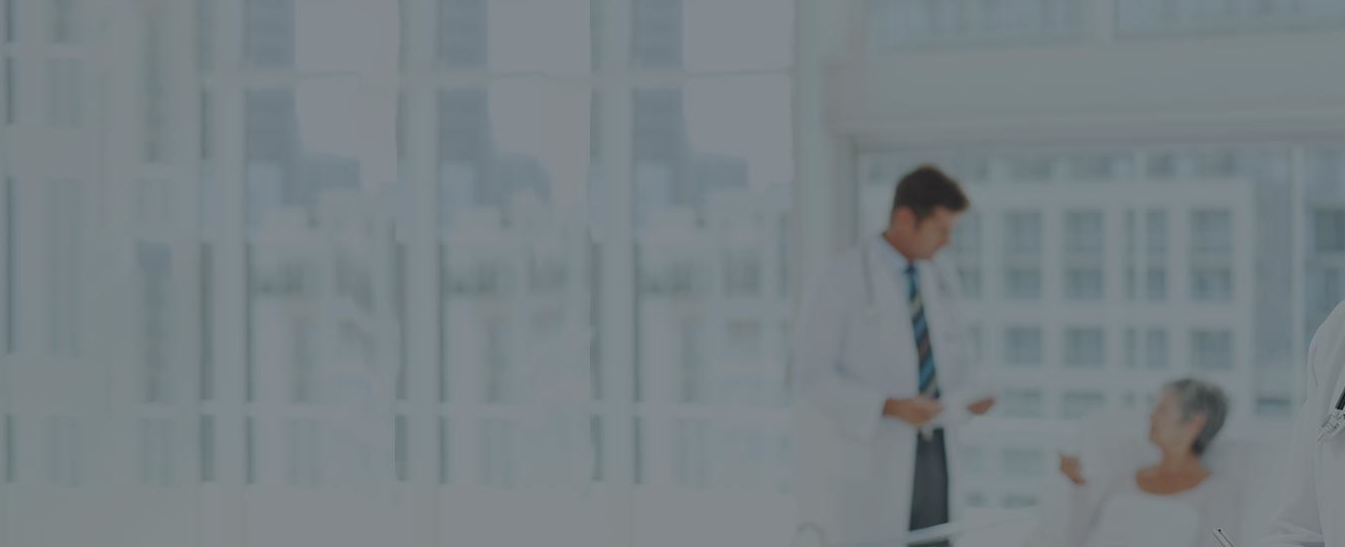 MedgreCCR
Capture Charges at the point of
care on a Handheld device

Medgre Check-in System
Replacing the paper sign in sheet
at the time a patient walks in

Medgre Patient Portal
Enhanced patient-to-physician
engagement
Connect_Next, as the name suggests, enables a next level - seamless connect between the stake holder trio of the school system viz. the school, students and parents. The product is envisioned to transform the engagement levels of the trio, thereby facilitating Participative Learning Environment. Gone are the days when learning started and ended at school. Learning needs to move from school to home and home to school seamlessly. Parents need to get more involved and engaged in this learning process. The lack of an easy to use and easy to access platform is holding back parents from this much needed engagement and involvement. The absence of a real-time learning status repository with information on the learning needs, progress, deficiencies etc of the child makes it difficult for the Trio to monitor and take measures for the betterment of the child. Parents remain disconnected as they have no easy way to get involved. Connect_Next fills this gap. It makes available a real-time learning status repository and provides an easy to use close knit interaction mechanism that is made available through user devices that are most commonly used, making effective participation possible. Teachers/ principal & school staff are provided with tablet computers with Connect_Next application, thereby enabling access & usage at fingertips (without having to rush to a computer room), while students & parents can access the system through a standard web browser from a desktop/ laptop or a tablet PC.

The three important components that Connect_Next helps manage in the school education system are Information, Communication and Security.

Information Management:
Learning Management Gateway helps in managing the learning information
Learning Management:
Planning, progress recording & monitoring of syllabus and lesson plans
Homework, assignments, projects and activities can be planned, uploaded, tracked and graded
Student, parents can download and (if required) submit assignments online
Overall learning progress and statistics at the press of a button for headmistresses, principals & administrators
Teacher substitute planning
Student dossier/profile/portfolio:
Continuous maintenance of student progress, performance, activities participated in, awards and achievements etc. Throughout the school life of the child.

Communication Management:
Communication dashboard:
One touch easy interaction, intra-messaging, broadcast, specific group messaging and one to one interaction, and emails, chat, SMS (as desired by administration)
Announcements, news items, awards, birthdays, discussion forums and desired social interactions
Virtual Parent Teacher Meeting:
Each student has a separate dashboard through which the teacher can convey matters of priority, concern and focus to parents on issues that need immediate attention instead of waiting for the next PTM.

Security Management:
Real-time Presence Monitoring for safety, security and class room attendance
Teacher has instant information on presence of students in class, automatic attendance capture and recording through the day and can track the location of the students anywhere within the school premises
Principal and administrator can also track Teachers & staff through the real time presence tracking system if desired.
Parents get notification SMSs regarding entry and exit of their wards to and from the school as well as real-time presence information of their wards within the school campus.

Real-time presence
Real-time presence: Real-time Presence Monitoring feature allays security fears of parents when their wards are away at school. Parents can get notification SMSs on their mobile phones regarding entry & exit of their wards to and from the school. Parents can also check the real-time presence information of their wards within the school campus using their mobile phones or personal computer.While teachers can check real time presence / location of their respective students, Principal can check real time presence / location of all students, teachers and staff.
Parents:
Get Alert SMS when your child enters / exits school campus
Check real time presence / location of your child in school campus
Principal:
Check real time presence / location of students / teachers / staff
Teachers:
Check real time presence / location of your students
Ease of Use and Increased Efficiency
Medgre is easy to learn and easy to use. The physician can see and work with all patient information on one screen! While ensuring Ease of Use, the product captures all the aspects of patient data, thereby reducing time and effort, and eliminates the need to store paper records. Ample use of pop-up screens eliminates the need to go to multiple pages and return. Drop-downs with selectable data reduce the need of re-entry of standard data and gives you the availability of past & default data for reuse, which saves you time! With Medgre, the time spent on the software per patient is cut down, thereby freeing up the physician's time, which can be spent with the patient thereby improving their satisfaction quotient.

e-Prescription
Medgre provides seamless e-prescribing capability leading to better accuracy and greater patient satisfaction.
Electronically prescribe all medicines including Controlled Substances.
Improves patient safety with instant drug interaction checks, dosage levels, adverse reaction checks and duplicate therapy checks.
Access to brands and drugs library.
Avoid Medicare Penalties.

Patient Dashboard
A Single Point Access for All Your Activities.
The Medgre Patient Dashboard brings together all interfaces that a doctor needs while attending to a patient onto a single page. You can enter all patient data (demographics, diagnosis, medication, lab orders...) within this dashboard, without switching between pages: this results in less time spent per patient. The dashboard gives one access to the following patient information:.
Labs & Radiology Interface
Easily interfaced with the Labs and Radiology centers .
The Medgre Patient Dashboard brings together all interfaces that a doctor needs while Medgre can be easily interfaced with the Labs and Radiology centers that you work with to enable you to place orders and receive results from within the EHR. Medgre is has interfaces in place with major lab chains.
Designed with a focus on efficiency and ease of use, Medgre PMS, comes integrated with Medgre EHR or standalone, is a powerful, user-friendly practice management system. Each module gives you the relevant information for the task at hand and enables you to drill-down for more details specific to your workflow. Medgre-PMS is intergared with Medgre EHR, giving you the ability to share patient demographics, insurance information, appointments, encounter details and other patient information with the billing staff in real time. The integrated system increases efficiency, reduces data entry errors and keeps both the front and back office in the loop. After the patient visit, encounter billing data flows directly from Medgre EHR module to PM module to be reviewed, confirmed and processed by the billing office, eliminating duplicate data entry and potential errors.
Key Advantages
Optimal Clinic Work flow Enhanced clinical quality and patient satisfaction Analyze scheduling patterns and availability Comprehensive tools for appointment functions Day, Week, Month views View all schedules View by day or provider Repeat scheduling Patient visit status monitoring Daily work list tracks appointment-related tasks Communicate directly with Patients through SMS or Email Search data using multiple criteria like Name, DoB, Chart #, etc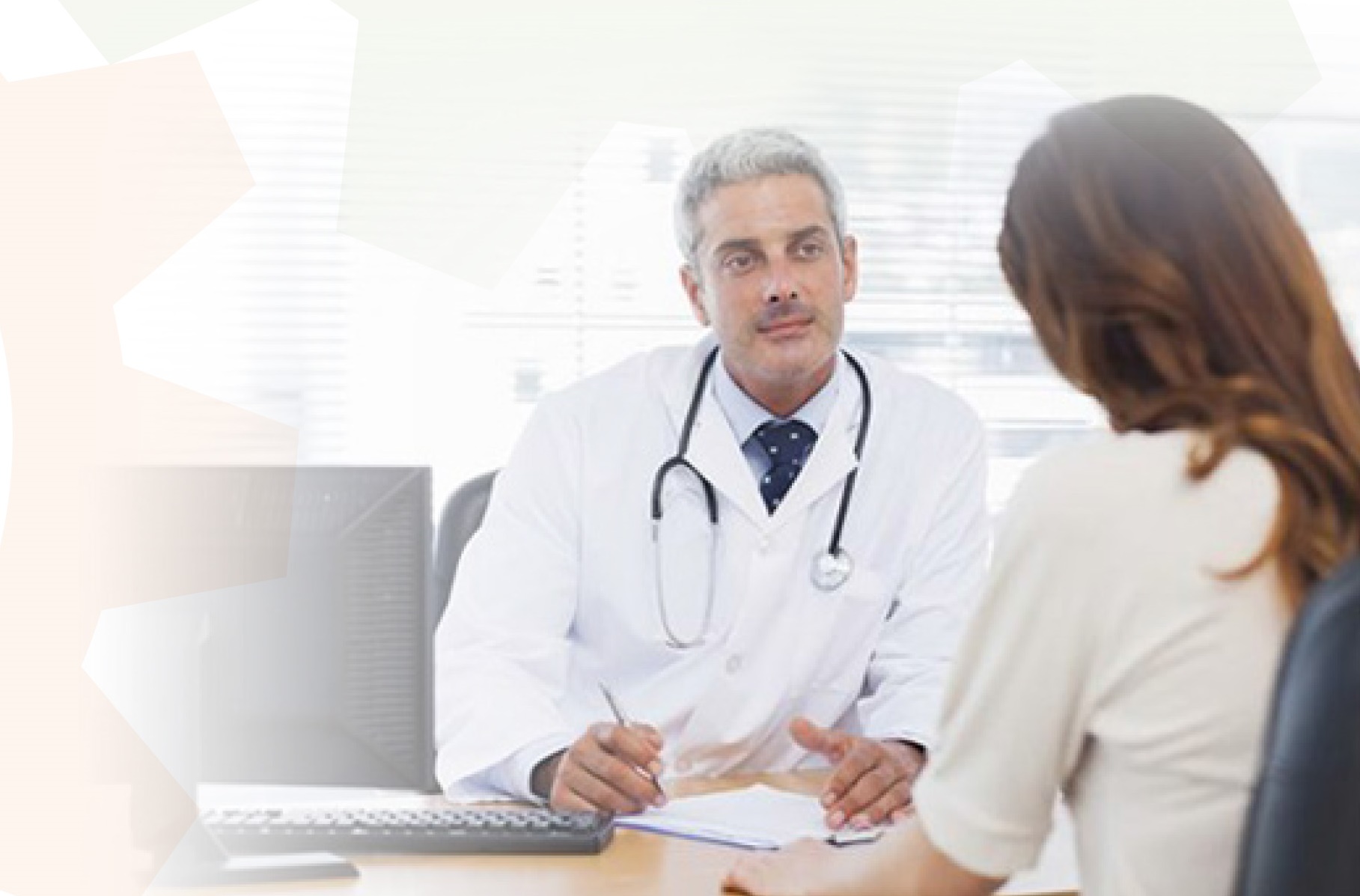 Capture charges accurately on the go and be sure of being paid for them.
CAPTURE CHARGES AT THE POINT OF CARE ON A HAND HELD Capturing the physician's charges correctly, completely, and on the spot is crucial to the financial health of a healthcare provider organization. Medgre Charge Capture & Rounding system helps physicians to capture the encounter and billing information of patients in a hospital, or any other facility outside their own clinic on their own mobile phones or tablets. The charge information is directly captured in Medgre via the internet.

Key Features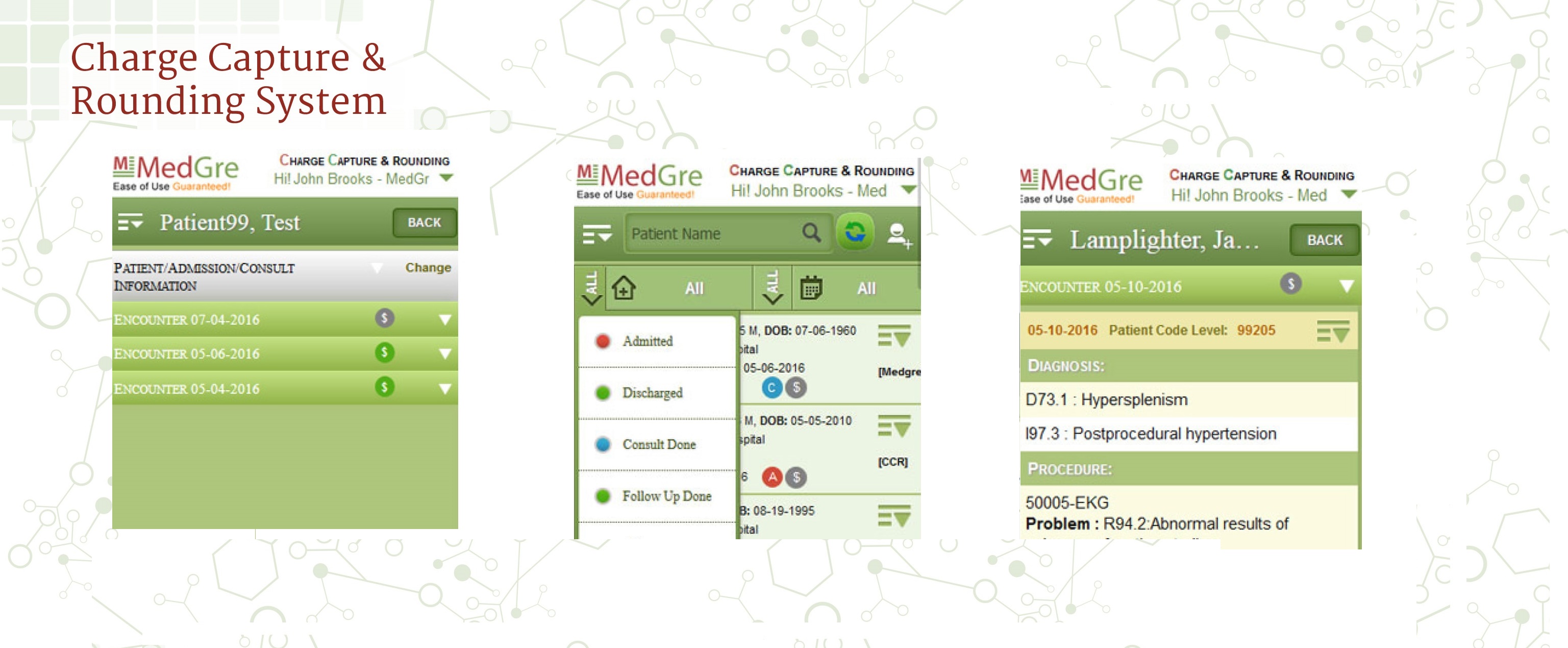 A Faster & Easier Way to Patient Sign In Replacing the paper sign in sheet with Medgre's Check-In system adds privacy and organization from the time a patient walks in.
Key Features
Faster service; reduced waiting! Privacy & control Improved legibility & accuracy Instead of filling in a check in sheet in paper, patients like to choose self service by using electronic check in, reducing wait times. Case studies show more than 90% of patients are able to check themselves in without help from an assistant Savings in administration costs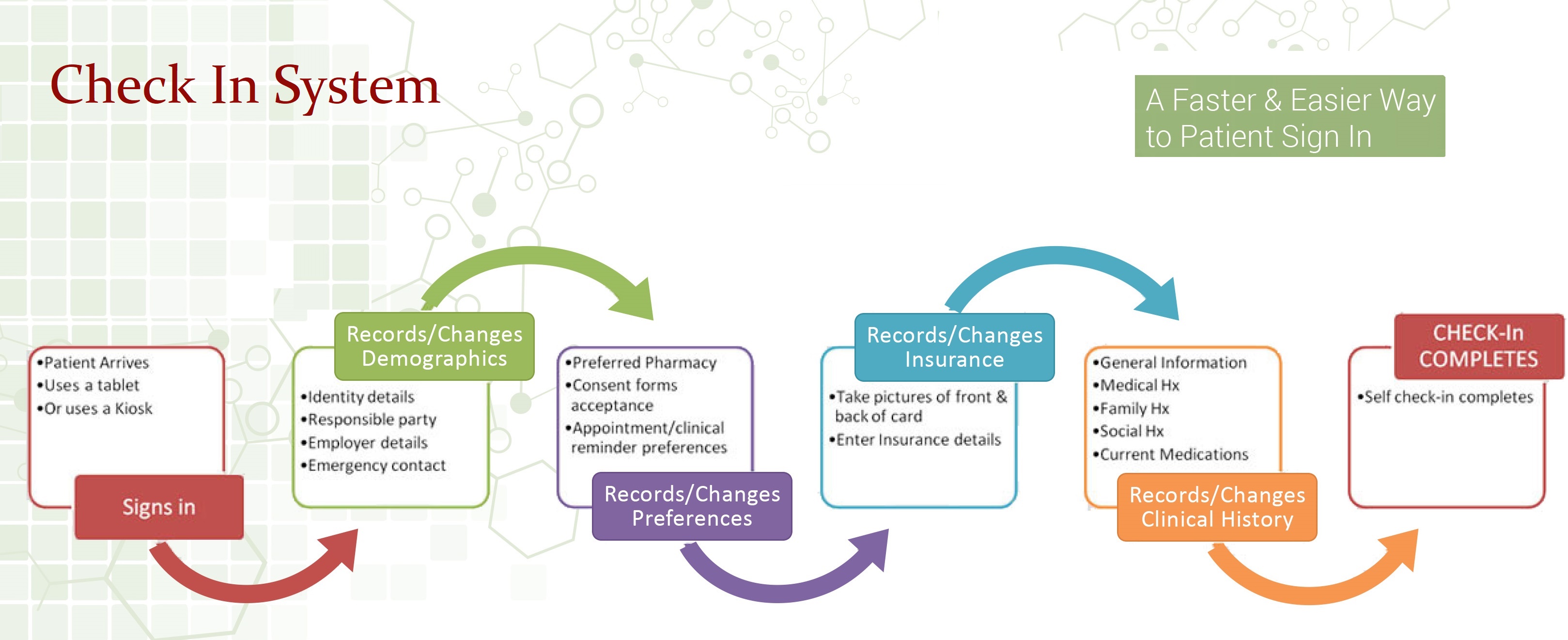 Medgre provides an enhanced patient-to-physician engagement through a very user-friendly patient portal. The portal promotes your practice, and makes it easier to perform preventive health-care. Patients can access their information securely from the comfort of their home or work-place at any time of the day or night. Patients can view their medical records or communicate with their physician or clinic. The Clinic can send patient reminders, statements, patient education materials and lab results.
Feature Advantages
Patients: Enter medical history online Send messages to the physician or Clinic staff Complete New Patient Registration and Patient Pre-Registration Medication renewal requests Check lab results Schedule appointments Receive patient education materials
Providers: Securely communicate with patients Send appropriate patient education materials directly to the patient Post lab and imaging results to the portal Send reminder notices Post and upload patient consent forms Obtain referral requests View medical history

Request A Demo for Medgre
Please fill out the following info and hit the Send button. We will be in touch with you
Do you have any questions about our products or services?